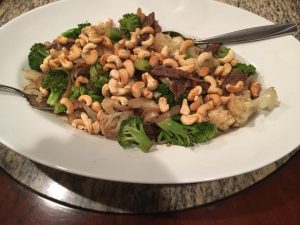 1 lb skirt steak (flank steak works too) a little frozen, thinly sliced 1/8" thick x 1" long
2 cups broccoli, cut bite sized
2 cups cauliflower, cut bite sized
1 yellow or red onion, sliced
1 large carrot, diced
3 Tbs coconut aminos (can use Tamari (gluten free soy) if not watching out for soy)
1 tsp Fish Sauce (Red Boat)
1 Tbs Rice Wine Vinegar
1 tsp garlic powder
1 tsp Sriracha (or favorite spice add – red pepper flakes, etc.)
1 tsp toasted sesame oil
1 tip of thumb sized piece of ginger, grated finely
Optional 1 Tbs Arrowroot (if using, mix with coconut aminos first)
1 cup raw cashews toasted (I use toaster oven but you can do in wok before starting)
Coconut Oil
Salt & Pepper
In a wok over high heat, add a Tbs of coconut oil, add broccoli and cauliflower, sprinkle with salt and pepper, toss until crisp, add a Tbs or two of water, put lid on wok and let steam for a few minutes.  Remove from wok and set aside.
In a medium bowl add the beef, onion, carrot and marinade ingredients and a good dash of pepper.  Using your hands, massage the mixture, working the marinade into the beef for a minute or two.  You can alternately put this in the fridge for 30 minutes (but then it will take more than 25 minutes).
Place wok back over high heat with another Tbs coconut oil.  When hot, add beef mixture carefully, stir fry until beef is cooked through, push meat up on the side of the wok and let the liquid reduce a little.
To plate, in a large serving dish, place the broccoli, cauliflower mixture, pour the beef mixture over the top, gently toss, sprinkle with cashews.
Updated 1-7-2017
Recipe by Paul Adair. All rights reserved.
Copyright © 2017 "The Culinary Cave Dad"