The Culinary Cave Dad here.  Did you know that most (many) store bought rotisserie chicken is loaded with sodium, sugar and often soy?  Yeah, nasty stuff.  I have also had a lot of you ask for easy chicken recipes or time savers, this one is not only both, it's a money saver too.  One chicken and handful of veggies gets you multiple meal uses for the chicken plus quarts of delicious, rich, chicken bone broth to use or drink as you see fit.  Most of the cooking time is unattended and you end up with perfect results every time.  This recipe was inspired by the many versions of this dish we've tried over time.  This one is the one we call our own.  The chicken picture is before cooking so you get that rotisserie look by the spice rub.  The stock pic below is after simmering for about 8 hrs.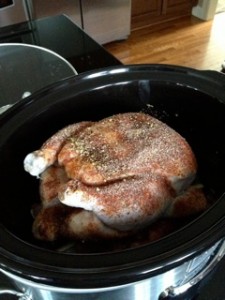 Easy Crock Pot "Rotisserie Style" Chicken and Awesome Brown Stock
Spice Rub (suggested – play with your favorites)
Blend together: 1 1/2 tsp kosher salt (use less for finer-grain salt) 1 tsp garlic powder 1 tsp onion powder 1 tsp dried oregano (thyme and rosemary work well too as does a blend of all) 1 tsp chili powder (I like anchco but a blended chili powder works too) 1 tsp fresh ground black pepper 1 tsp paprika (smoked or half and half adds a nice touch)
For Chicken
1 3-4 lb bird 2-3 carrots, scrubbed, topped and tailed and cut into 3" lengths 2-3 ribs celery, scrubbed, cut into 3" lengths 2 small onions – quartered 1 lemon pierced (optional) 2-20 cloves of garlic (optional)
In a large Crock Pot (preferably oval shaped):
Put carrots and celery and one of the onions on the bottom along with any of the organ meats and neck that may have come with the chicken.
Tuck chicken wing tips back.
Stuff onion and optional lemon and garlic in center cavity of chicken (I don't often do the lemon or full garlic but maybe a couple of cloves).
Place chicken into crock-pot on top of veggies.
Rub bird with olive oil
Cover bird with all of spice blend
Put lid on crock-pot and set on high for 5 hours.
For us, we generally make this chicken to use throughout the week so we let it cool covered in loose foil then disassemble the bird, reserving all of the bones and skin.  Also save the veggies and any accumulated liquid from the cooking to add to the stock.
For Awesome Brown Stock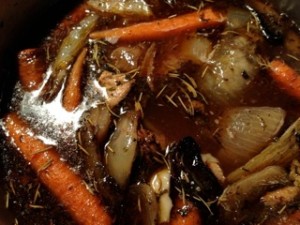 Bones, skin, veggies and accumulated broth from bird   3 scrubbed carrots, roughly chopped 3 scrubbed celery, roughly chopped 1 onion, quartered, leave skin on 2 cloves garlic, smashed, leave paper on 2 Tbs Apple Cider Vinegar (we love Braggs)
Herbs are flexible to what you have and can be dried too just reduce the amount you use
2 bay leaves 1 sprig rosemary 5 sprigs thyme 1 handful parsley 1 handful chives 2 tsp dried basil 2 tsp salt 12-20 peppercorns
Preheat oven to 400 deg.
Lightly coat jellyroll pan with olive or coconut oil and place bones, skin, previously cooked veggies and organ meat (toss lemon if used) on the pan.
Roast bones turning occasionally for 30-40 minutes until they are a nice golden brown color.
Put bones in 8 qt stock-pot, with freshly cut veggies, herbs, reserved stock from original cooking. – Note: You can also do this in a crock-pot and leave it go for more than 24 hrs.
Pour boiling water into roasting pan (about a cup or two), let sit to loosen the brown bits, scrap up and dump into pot (you want to do this step – plus it makes clean up easier).
Fill pot with water to cover everything (an inch or so below the rim).  Bring to a boil, reduce heat, add ACV then let simmer for 6-8 hours or so.  Topping off with boiling water occasionally to keep level constant.  Again if using crock-pot, run it on low for 24 hours or so, also keeping the liquid level constant.
Drain the stock out through a colander or sieve (better) into another pot.  Discard the ick.   The purists skim the foam and keep the stock from getting a little cloudy, I have a family to spend time with too and the flavor doesn't change.
Voilà! A rich brown stock for use the rest of the week as well.  May need to check for seasoning but we make it a little under seasoned on purpose and adjust in the final use be it soup or whatever.
Updated 9-17-2013
Copyright © 2013 "The Culinary Cave Dad"