Every respectable cave dweller needs to have their own go to for this heavenly condiment. As Paul asked me the other day, "what do you use it on?" My response – EVERYTHING! Seriously, this stuff could make flip-flops taste good. I've included some additional suggestions as to what you can add to and do with it below including a super simple salad dressing.  Pictured is the food processor version but I really like the blender for this.  Late breaking update – if you have a variable speed immersion blend and a 1 pint wide mouth mason jar, everything in, turn to low, put at the bottom, slowly move and boom!  Quickest no fuss way I have tried!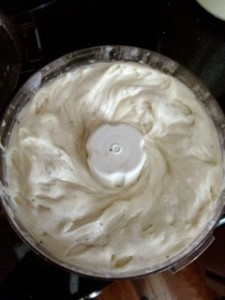 Homemade Mayonnaise
1 1/4 cup extra light olive oil, divided – do NOT use extra virgin olive oil
2-3 cloves garlic
2 Tbs good white wine vinegar (can also use lemon juice)
1 egg – room temperature (I usually put in warm water, changing the water a couple of times)
1 1/2 tsp stadium or Dijon mustard
1/2 -3/4 tsp salt
1/2 tsp cracked black pepper
In a blender or food processor put 1/4 cup olive oil and the rest of the ingredients. Blend for 30 seconds or so (we use speed 2 on our 10 speed blender). In two 40-50 second increments drizzle 1/2 cup olive oil into blender (again on speed 2). You should hear the pitch change when you have an emulsion. Don't be tempted to quickly pour the oil. Low (speed) and slow (drizzle).
Variations – add chipotle pepper, adobo sauce (great on sweet potato fries), lemon zest, herbs (basil is really good on fish), etc. Also, can mix with grainy mustard, Dijon, capers and horseradish to make a knock-out dip that goes great with grilled or roasted meats especially beef and pork.
Google Blendtec Mayonnaise for a video demo on the process I use above.
Salad dressing
2-4 tbs of mayo from above
1 clove garlic minced or grated finely
1/2 c good apple cider vinegar (we use Braggs)
1/2 cup olive oil
1 Tbs Dijon mustard
salt and pepper
Put all in bowl and whisk until creamy.
Updated 8-25-2013
Copyright © 2013 "The Culinary Cave Dad"