Fall is squash season and this great savory and spicy soup will warm you on those blustery days.  If it is too thick, add some more broth to get to the desired consistency.  The toasted seeds add a perfect crunch for a great balance of tastes and textures.  Enjoy!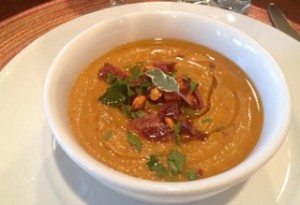 Ingredients
1 3-4 lb butternut squash, peeled cubed, save the seeds 3-4 carrots, scrubbed and roughly chopped 1 large onion, chopped 3 cloves of garlic, minced 3 sprigs thyme 6 slices of cooked crispy bacon (make a pound and snack while you cook) 3 cups chicken stock coconut oil bacon fat or ghee ½ tsp dried sage 1 tsp dried thyme 1 can coconut milk salt, pepper Chipotle chili powder 1 Serrano minced (keep seeds) 1 clove garlic, roughly chopped ½ cup avocado or olive oil 1 rosemary sprig 1 thyme sprig parsley for garnish
Directions
Pre-heat oven to 400 deg. Put the squash and carrots on sheet pan with coconut oil and salt and pepper. Roast ~30-40 minutes stirring every 10 or so until lightly browned.
Season reserved seeds with salt and pepper and sprinkle with chipotle powder toss with some bacon fat and roast 15-20 minutes until brown. Let cool.
While the squash roasts sauté the onions in some bacon fat in a pot large enough for all the ingredients. Toss in thyme sprigs while sautéing and cook until the onions start to brown. Toss in garlic and cook another couple minutes. Pull out thyme sprigs add in roasted squash and chicken stock and two pieces (or more) of the cooked bacon. Blend with an immersion blender, blender or food processor.   Add coconut milk and place back on stove to heat back up (low). Test for seasoning.
To make the chili oil, add ½ cup avocado oil, the Serrano garlic, rosemary and thyme along with ½ Tbs of chipotle. Gently heat until you can hear things start to simmer, lower to lowest setting and let oil steep for 30 minutes. Run through a coffee filter and remove all but the oil.
To serve, ladle the soup sprinkle with crumbled bacon, some parsley, toasted seeds and drizzle with the chili oil.
Updated 10-12-2014
Recipe by Paul Adair. All rights reserved.
Copyright © 2014 "The Culinary Cave Dad"