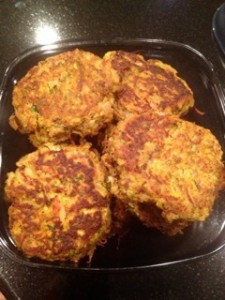 There's lots of fritter type recipes out there and this one is an amalgam of many.  It's a little spicier and a little more bold but basically a paleo fritter is meat (usually pre-cooked), finely shredded with one or more veggies finely chopped and some eggs to bind.  Once you have the basic technique you can make salmon cakes, this recipe, think things like cauliflower chicken or chicken and broccoli, tuna cakes, etc.  These are great warm or cold the next day and are great take along snacks.  When frying, you can choose to dredge in some arrowroot or the like but I generally find that's just another mess to clean so I don't.  Just remember if you are using a particularly wet veggie you either need to pre-cook and drain or salt and drain and/or squeeze.  Generally lemon or lime juice squirted on at the end with some mayo like dressing is always a good add.  So take this not so basic version and amp it up more or skinny it down to suit your tastes.
Ingredients
2 medium zucchini grated fine 4 medium carrots grated fine (we used purple, yellow and orange) 1 medium onion finely minced 1/2 rotisserie chicken roughly chopped using light and dark meat (use this recipe
http://thoughtfulcavedad.com/food/recipes/easy-crock-pot-rotisserie-style-chicken-and-awesome-brown-stock/
) 1" piece of ginger, peeled 4 garlic cloves peeled 1 Serrano or jalapeno minced (hotter with seeds – optional) 4 eggs, beaten 1 tbs tandoori spice (
www.penzeys.com
) 1 tbs hot curry powder (also from Penzeys) 1 tbs turmeric (can use fresh or dried) 1 tbs Garham Masala – optional (also from Penzeys) 2 tsp cumin (cumin seeds would be good too) 1 1/2 tsp salt (plus more for salting zucchini) 1 tsp pepper Coconut oil or ghee for frying
Directions
Salt the shredded zucchini in a colander with fine mesh and let sit for 20 minutes or so. Squeeze out as much of the water as you can. Put zucchini, onion and carrots in a large bowl (big enough for the rest of the ingredients).
Put the ginger and garlic in food processor and pulse until very fine, add chicken and pulse until a coarse chop is accomplished (may need to do in batches).
Add chicken and eggs to shredded veggies along with spices. Mix with your hand (if using turmeric consider gloves). Using an ice cream scoop or 1/3 cup measure gently form into patties and put into a pre-heated non-stick pan with a generous amount of oil. I used medium heat. If it doesn't sizzle, the pan is not hot enough. Cook five to seven minutes per side turning occasionally until nicely browned on both sides. Place on a parchment lined pan when browned and place in 225 deg oven to keep warm. Cook in batches and don't overcrowd the pan.
Sriracha Aioli
1/3 – 1/2 cup mayo (make your own
http://thoughtfulcavedad.com/food/recipes/mayonnaise-you-need-to-make-this-now/
) 2-3 tbs Sriracha (use approved sugar free hot sauce if going sugar free) 1/4 cup avocado oil 1 tbs sesame oil 1 tbs coconut aminos Lime juice and cilantro if desired
Mix all ingredients.
Serving Suggestion – Make it a salad!
To serve, plate up a huge pile of greens (romaine, spinach, arugula, etc.), some cooked and cooled green beans, sliced turnips, etc. Place 2-3 patties atop the greens, drizzle with the aioli and enjoy!
Updated 9-24-2014
Copyright © 2014 "The Culinary Cave Dad"