Inspirations – Emeril Lagasse, Montgomery Inn and yes, Betty Crocker!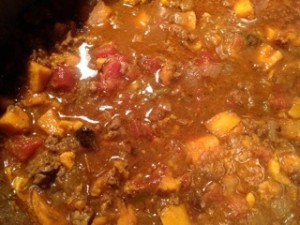 Betty was the first chili recipe I made and included the cocoa which is just amazing in chili and also clued me into the fact that the unexpected often yields great flavor.  When I decide to go off the paleo path I will also serve this over potato chips.  I saw Emeril put chili on top of chips with blue cheese and I love the Saratoga chips that Montgomery Inn in Cincinnati makes so I use both.  My measurements are approximate since I mainly eyeball things but this is more or less the recipe.
Ingredients:
1 1/2 lb ground beef, bison or even turkey
1 large onion, fine diced
3 cloves of garlic, minced
1 Tbs Chili Powder
1-2 tsp sea salt (start with one, add more at the end if needed)
1 Tbs Ancho Chili Powder (or other roasted chili – this isn't a blend it is just the pepper)
1 tsp black pepper
2 tsp cumin
Add spices to your liking – I tend to use ancho, adobo, chipotle, cinnamon (just a hint)
1/2 – 1 tsp coriander (seed not the leaf)
1 – 2 tsp unsweetened cocoa powder (don't leave this out)
1 tsp Mexican oregano (can use turkish as well)
1 tsp Tabasco (or your favorite hot sauce)
1 10 oz can of tomatoes with chilies (Rotel)
1 15 oz can no salt stewed tomatoes
2 bell peppers diced (I often just use a bag of frozen Trader Joes pepper blend)
1 1/2 cups bone broth (homemade preferably)
2-3 peeled diced and roasted sweet potatoes (400 deg oven, fat of choice, salt and pepper – toss on sheet pan roast 20-30 min)
Pickled or fresh jalapenos and guacamole to garnish
Directions:
Cook and break up the beef, onions garlic and spices until beef is brown in a 4-6 qt pot.
Add the two cans of tomatoes bring to a boil, reduce to simmer and simmer covered 30 minutes.
Add peppers and potatoes along with the broth, bring to boil, reduce to simmer uncovered for about 15-20 minutes more until chili is thickened some.
Check for seasoning adjustments if needed.
To keep things paleo, serve in bowls topped with jalapenos and guac.
The Award-winning Non-Paleo Chili option
If you want to go a little off the paleo path, try this as described below with potato chips, cheddar and blue cheese!
To serve, place a handful of chips (kettle chips or make your own) in the bottom of the soup bowl, ladle one to two ladles  of chili on top, sprinkle with cheddar and blue cheeses top with a dollop of sour cream or guac and jalapenos if desired.
Saratoga Chips
Ingredients:
3-4 baking potatoes – sliced thin, skin on with a mandolin ~1/4" or thinner
2-3 Tbs olive oil
1-2 Tbs chili powder
1 tsp cumin
1 tsp salt
1 tsp ground black pepper
Directions:
Pre-heat oven to 450 deg.
Mix potatoes oil and spices until all are covered with spice mixture (I use a zip top bag to do this).
Grease two cookie sheets with olive oil and place chips on a single layer.
Bake until chips are crispy 30 – 40 min – check occasionally and depending on your pans and ovens and the thickness of the chips you may need to turn them.
You can also fry and add the seasonings at the end.
Updated 1-4-2014
Copyright © 2014 "The Culinary Cave Dad"